Support Us
La Posada Naming Opportunities
Catholic Charities is pleased to offer several Naming Opportunities
at the La Posada de Guadalupe Shelter available for your financial support.
La Posada, located in Carlsbad, California, is the only shelter in San Diego's North County region that provides short term housing for homeless men, day laborers, and long term agricultural workers. The program provides three meals a day, hygiene facilities, case management, health and nutrition education, referrals to employment training and job assistance, and assistance in accessing permanent affordable housing options.
There are three basic ways you can become support La Posada: Pavers in the Courtyard, Name Sponsor on the Dining Room and Patio Walls, and Name Sponsor on the Farmworker and Homeless Men's Buildings Walls.
We continue to need your help to help those we serve everyday.
Proceeds from the Naming Opportunities listed below directly support La Posada's work of providing shelter and support services to farm workers and homeless men in North County.
---
Courtyard Pavers: $150
The name you choose – your name or the name of a friend or loved one – will be carved on one of the pavers located in the Courtyard between the buildings.
---
Farm Worker or Homeless Men's Building Wall: $250
Dining Room or Patio Wall: $500
Your name will appear on a plaque as the sponsor of a building, room or patio.
---
Medical Screening Room or Kitchen: $50,000
Your name will appear on a placque as the sponsor of the screening room or kitchen.
---
Homeless Men's Building and Farm Worker Building: $200,000
Your name will appear on a plaque as the sponsor of the building of your choice.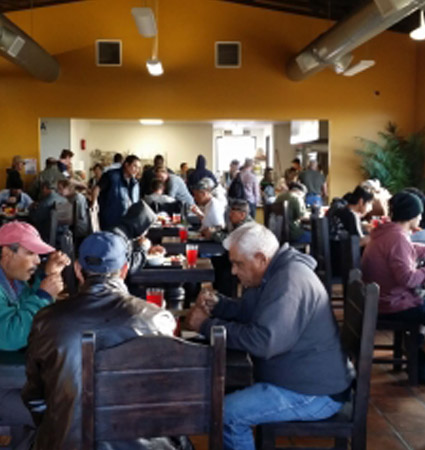 More Information
For more information about donations, please contact:
Catholic Charities
PO Box 121831, San Diego, CA 92112-1831
619 323-2841